We export Skyline GTR, Supra, MR2, Roadstar, AE86, RX-7,Pajero,Legnum wagon, Terrano, Lucida, Delica, Landcruiser, PulsarGTI-R, R33,to UK AU NZ customers directory from Japan in high quality and Cheaper price ever than usual ! We are very good at Used Japanese All High Performance Cars .Please feel free to contact with us as soon as possible.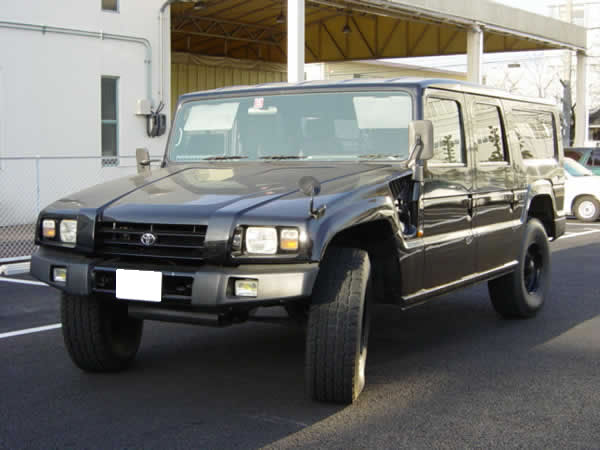 1996 TOYOTA Megacruiser information!
Stay your mouth pointer on each thumbnail to switching the image files.
This vehicle is now in japan, and waiting for the ocean vessel to Rotterdam port in Netherland, This vehicle we have found at japanese used car dealers, and bought at the dealers for our custmers requests.

Basically This rare vehicle, "Megacruiser" can't be seen in japanese road, because Most of Megacruiser are used as one of Military vehicle(Famous Japanese military), Forest ranger vehicle, special armed police vehicle, and special fire department vehicle only.
So It is very difficult to find the used Megacruiser in japanese used car market.
Actually I have never seen this Megacruiser in the japanese road ever than before!

The body is very big, but The 4WS systems is convenient, so Can drive easily in small width road, and in the mountain road, Can drive easily.

This vehicle has turbo-charged 4200cc diesel engine, it's very powerful, and cruising at 120km in the highway road constantly. The acceration is very smooth, so We forget the bid size body.

This vehicle will be landed in Netherlands in March 2004, So If you are interested in this Megacruiser, We will tell you the contact address.

If you are interested in purchasing this vehicle, Let me have your requests.
We might be able to supply this model in future......!


SAMPLE INFORMATION
FOR MORE INFO ;
Please contact us by;
E-mail:office@monkys.jp
TEL/FAX:+81-72-624-6153
BACK TO Used Japanese Car page