We export Skyline GTR, Supra, MR2, Roadstar, AE86, RX-7,Pajero,Legnum wagon, Terrano, Lucida, Delica, Landcruiser, PulsarGTI-R, R33,to UK AU NZ customers directory from Japan in high quality and Cheaper price ever than usual ! We are very good at Used Japanese All High Performance Cars .Please feel free to contact with us as soon as possible.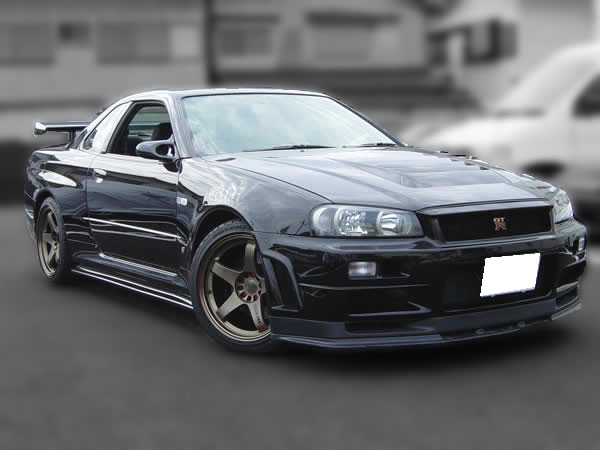 1999 BNR34 Skyline GT-R V-spec NISMO Modified!
Stay your mouth pointer on each thumbnail to switching the image files.
Mileage ; Very Low Mileage 39,000KM around 24,400Mile Color; Black
P/S, E/W, E/M, AAC, 6spd Transmission, AM/FM/Casette System
Taylor-Made Buffalo Leather interior(Specially ordered version)
Fully loaded, The mileage is guaranteed, and all service history has.

This vehicle is Modified at NISMO OMORI service factory, and The service package is stage1 level, NISMO Sports metal catalic converter(Emisson test pass), Exhaust mufler, Tune-up, remanagemented ECU is installed,
NISMO height adjustable coil over kits, NISMO strut brace bar front & rear, etc......
18'inch NISMO rims (O.E.M. supplied by VOLK RACING).

The condition is extremely good, One owner, well maintained vehicle.
The selling price is more higher than the similar year, Normal stock condition V-spec.
The modification cost is around 3milion JPY by the ex-owner.

For more details, Let me have direct e-mail or phone enquiry at us.
Your enquiry e-mail without Your custmer informations, Sorry we can't reply to you at all.

We are wainting for the serious enquiry only, and No discount sale!


FOB ASK US
FOR MORE INFO ;
Please contact us by;
E-mail:office@monkys.jp
TEL/FAX:+81-72-624-6153
BACK TO Used Japanese Car page