1996 Toyota Starlet Glanza V Modified F/M Cooler For Sale Japan
1996 Toyota Starlet Glanza V Modified, Blitz Front Mounted Inter Cooler, Blitz BOV, HKS power filter, Exhaust muffler, Down coils, etc.
Import Your Dream Japanese Used Car & Used Truck From Japan, MONKY'S INC export Good Condition cars, trucks to U.K. Ireland, all over the world from japan.
as an reliable Japanese Used Cars, Trucks Exporter in japan.
Thank you , This Unit Sold
Another Available Starlet Glanza V in Out TOYOTA USED CARS INVENTORY PAGE
Click here
1996 Starlet Glanza V turbo 5spd, actual 56,000km
for sale japanese used car truck exporter MONKY'S INC
STOCK NO : EP91-005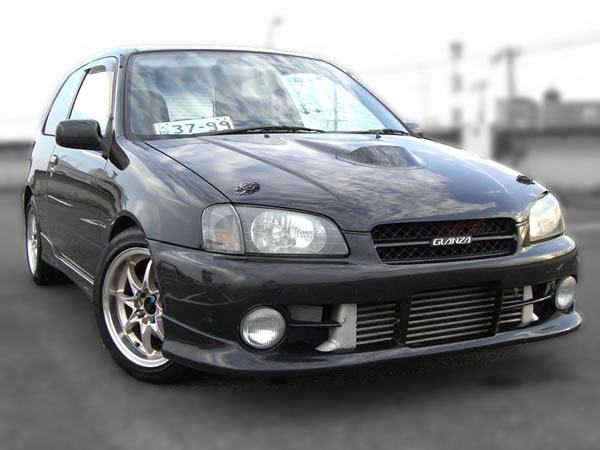 Toyota Starlet Glanza V 5spd Modified FOR SALE japan
Stay your mouth pointer on each thumbnail to switching the image files.
Mileage ; Mileage 56,000KM odo around 35,000Mile Color; Black Metalic
P/S, P/W, P/M, A/C, Driver side AIR BAG, ABS, 5spd.

Aftermarket parts list :
**15inch Volk Racing Alloy rims
**HKS air flow
**Aftermarket exhaust muffler
**BLITZ Front mount Inter Cooler with Pipings
**BLITZ Blow Off Valve (BOV)
**RS-R down spring with Kayaba SR damper
**Toyota option full body kits(Front, side, and rear)
**FRP Aftermarket light weight Front Hood with Hood pins
**MOMO Leather steering wheel
**Rezo Shift Nob
This unit is already inspected in our factory, No serious mechanical issue found.
If you would like us to change minor parts, Brake pads, vbelts, etc, Let us know.
We can offer "Reasonable" labor service only for Custmer who purchased our cars at us.

MONKY'S INC has own "mechanical, with Body factory", and "Tuning factory", offer
various kinds of service in japan before the shipping.



SOLD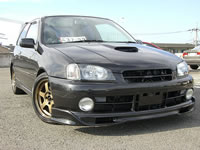 Stock No : EP91-011
FOB Osaka Japan 499,000JPY.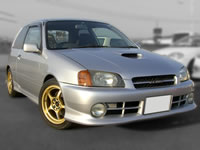 Stock No : EP91-009
FOB Osaka Japan 399,000JPY
Back to Toyota Used Car Stock List
Back to Main Stock List
FOR MORE INFO ;
Please contact us by;
E-mail:office@monkys.jp
TEL/FAX:+81-72-624-6153